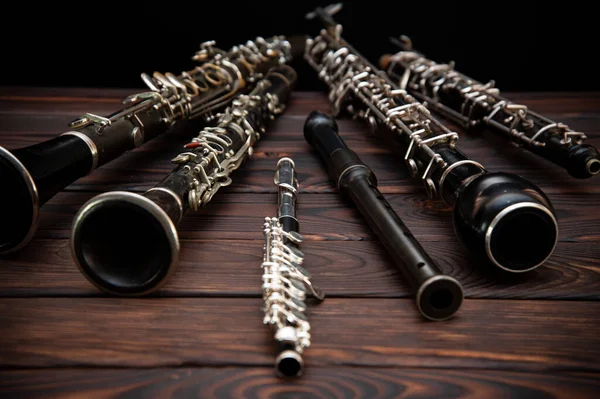 As the name implies, the woodwind family derives its name from the material that forms the instruments – wood. Today, these instruments are often made out of metal, plastic, wood, brass, or a combination of those materials but the name persists.
At the Pavilanis School of Music, we offer year-round registration for woodwind music lessons!  We offer lessons in saxophone, bassoon, flute, clarinet, and oboe.  Inquire today about music lessons at the school's location in downtown Eugene, virtual music lessons or in-home lessons.  Lessons can be 45 minutes or one hour long.
Please contact us to get information on pricing and availability! 
Woodwind Music Lessons – Bassoon
The bassoon is an incredibly difficult instrument.  With literally hundreds of different fingerings and a delicate double reed that needs frequent adjustment, the instrument is challenging to learn to play without regular private lessons.  Bassoon can also be very rewarding. With its large range and unique tone color, it has an excellent solo and orchestral repertoire. Bassoonists are a vital part of the orchestra, so they are often in demand.
ABOUT OUR BASSOON TEACHER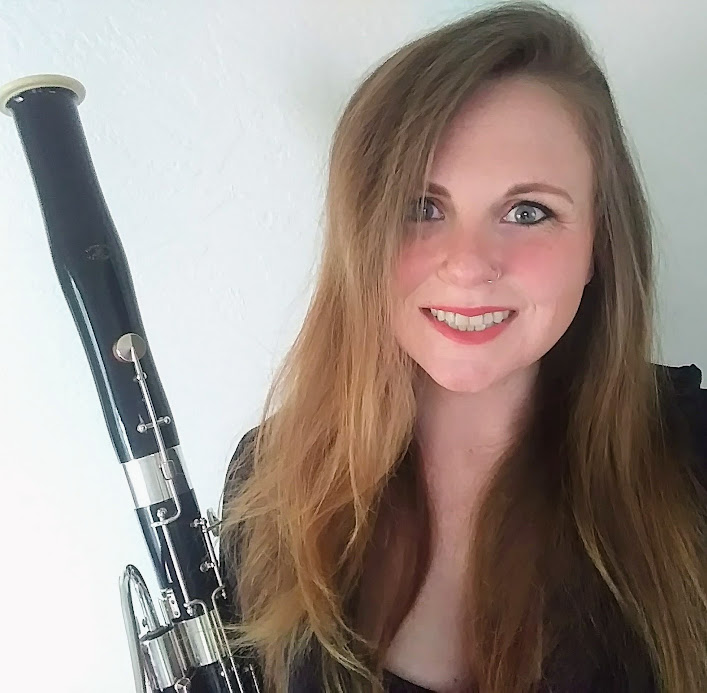 Kelly Cunningham
Bassoon
Kelly Cunningham was born in Reno, Nevada and raised in Arlington, Texas. The daughter of a guitarist and granddaughter of a pianist, she was introduced to the tantalizing world of music from the start. However, it was at the age of 12 when the unique and emotive
quality of the bassoon would captivate her almost entirely for decades to come. Kelly is a classically trained bassoonist and educator with equal passions for performing traditional works and pushing the envelope of bassoon expectations. She earned her doctoral degree at the University of Oregon (2022), masters at the University of Idaho (2018), and bachelors at the University of Nevada, Reno (2015), under the instruction of Steve Vacchi, Javier Rodriguez, and Eric Fassbender, respectively. One of Kelly's favorite projects upon completing her DMA lecture was studying and performing Axeman for solo bassoon by Anna
Meredith – a piece that requires plugging the bassoon into an amplifier to emulate an electric guitar rock solo. She enjoys creating music for
bassoon with loop pedal and amplification in her solo endeavors. In the traditional realm, she holds a position as a bassoon fellow with
Orchestra Next and has recently performed with the Women's Choral Society and the Siletz Bay Music Festival. She is also thrilled to be working with composers in the area on new chamber and opera works.
As an educator, Kelly regularly adjudicates All-State auditions for areas of Nevada and Oregon, coaches young musicians in the PNW, and has maintained a private studio of bassoonists of all ages. Kelly wholeheartedly believes that everyone is creative and deserves a safe space to explore and nurture their personal creativity. It is her goal to help students from one point to the next in their creative journeys by inspiring confidence and providing the tactile tools necessary for success.
Woodwind Music Lessons – Clarinet
You can play many styles and genres of music on the clarinet, although it is particularly well suited to jazz and orchestral music. The clarinet is seen in most orchestras as part of the woodwind section. 
The clarinet's diversity in sound allows it to sit comfortably in a jazz band, a classical wind ensemble, a traditional orchestra or folk music.
This is a great first woodwind instrument to learn.  Lessons can be 45 minutes or one hour.
ABOUT OUR CLARINET TEACHER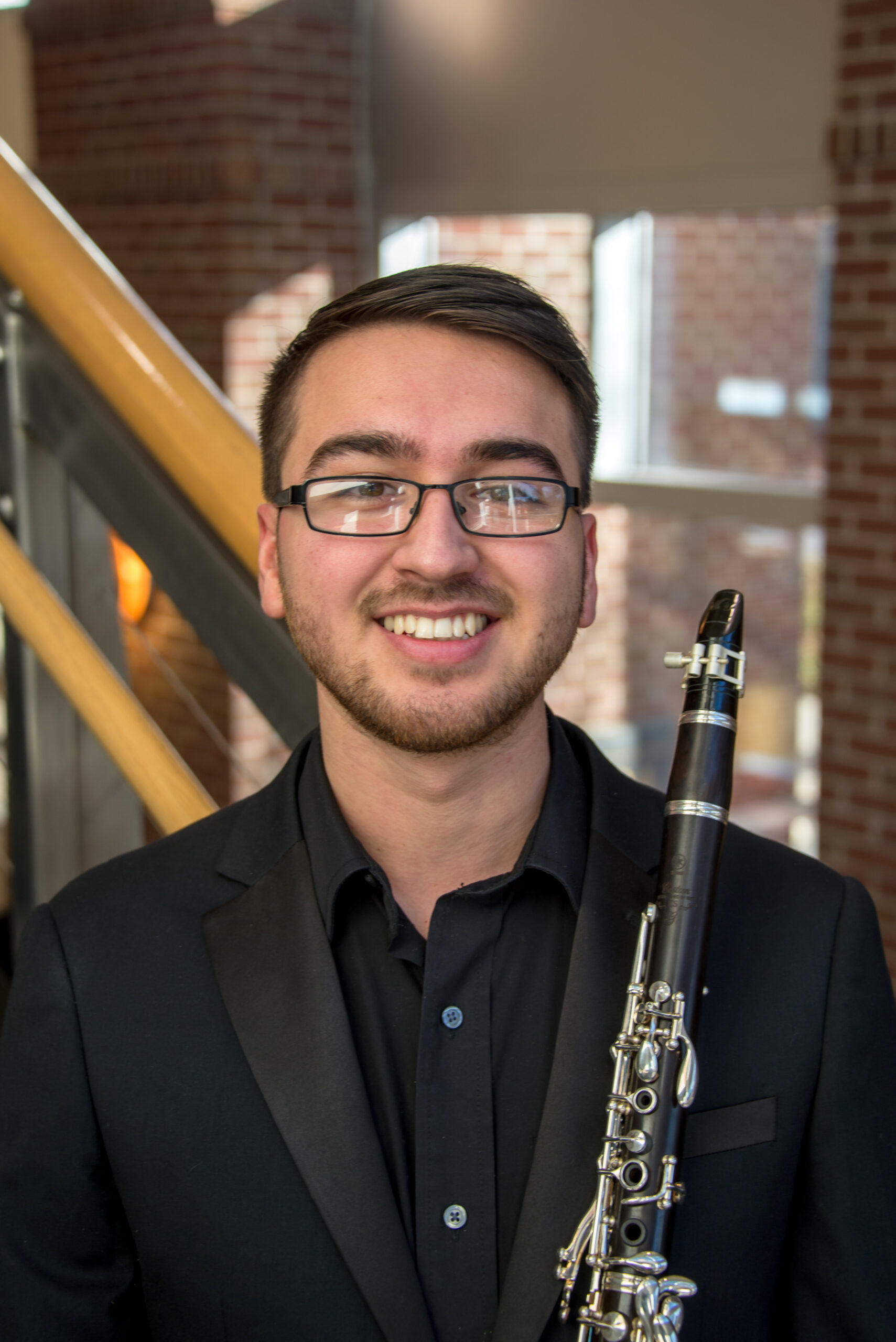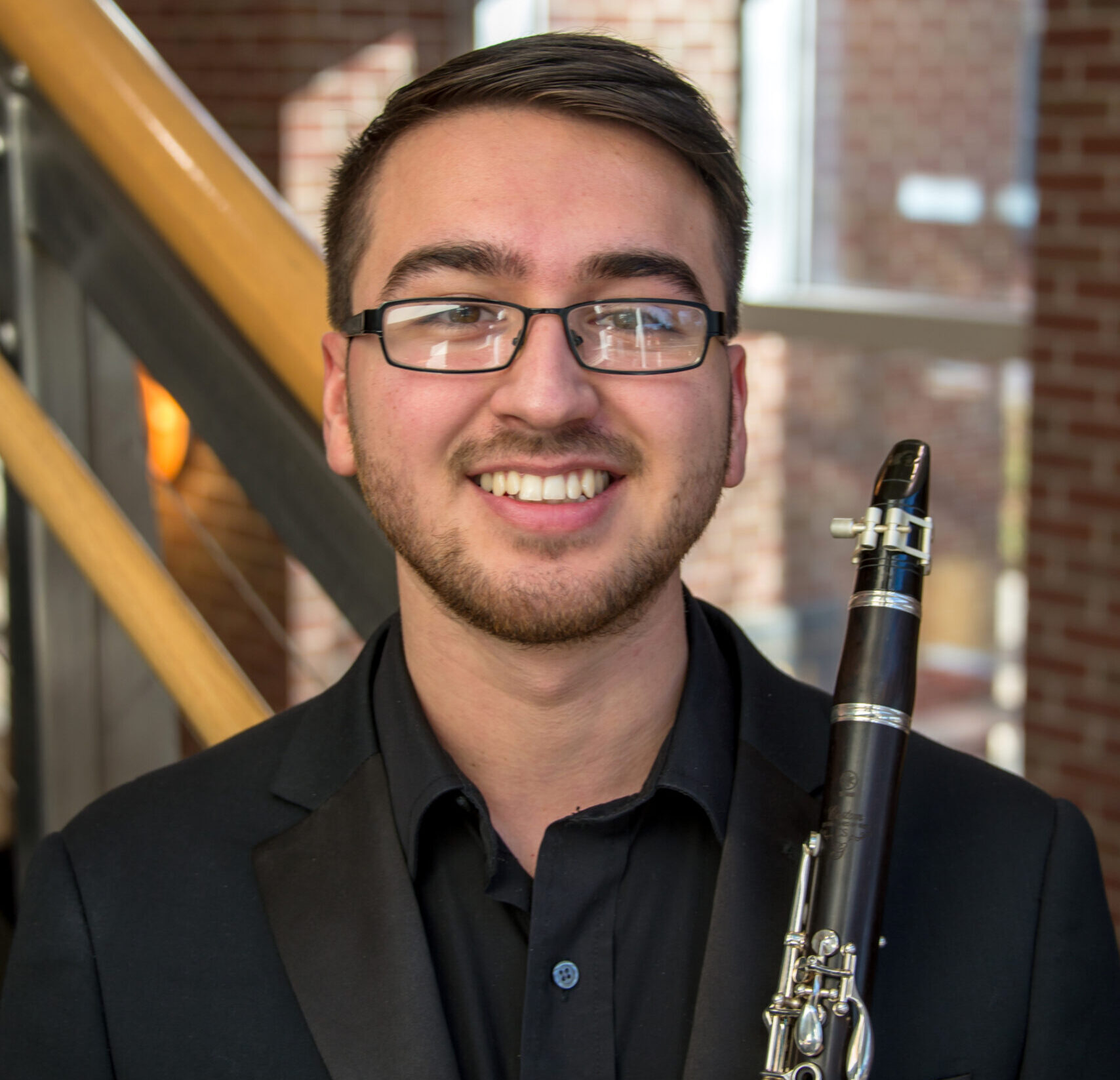 Anthony Aguayo
Clarinet
Clarinetist Dr. Anthony Aguayo has "the musical and personal ideas to really be one of the next great voices on the clarinet scene," according to Stephanie Zelnick, associate professor of clarinet at the University of Kansas. Anthony holds a Doctor of Musical Arts degree in Clarinet Performance from the University of Oregon where he served as Graduate Instructor of Clarinet from 2018-2022. He also holds Master of Music and Bachelor of Music degrees from Colorado State University and Eastern New Mexico University, respectively. Dr. Aguayo's primary teachers include Drs. Wonkak Kim, Wesley Ferreira, and Jennifer Laubenthal. 
 Dr. Aguayo is an active performer, pedagogue, and scholar. Anthony has been invited to perform at numerous ClarinetFest®️ Conferences hosted by the International Clarinet Association and will be performing a set of unaccompanied Latin American works at the 2023 conference in Denver, CO. He has given over 20 premieres of new works throughout his career including "Time and Space" for two clarinets by GyungEun Lee which he performed with Wonkak Kim. Anthony strives to program works by living composers from underrepresented communities; his area of specialty is focused on chamber works by Latin American composers. 
 Alongside saxophonist, Jessica Dodge-Overstreet, Dr. Aguayo co-founded Chyornii & Dorado. As an active duo, they recently completed a tour of Northern Nevada and California; this tour culminated in a performance at ClarinetFest®️2022. The duo has performed recitals at the University of Oregon and has been highly sought after for local performances in the Eugene area. The duo has also  been invited as Guest Artists at Portland State University and Oregon State University. The Chyornni & Dorado Educational Outreach Program has visited middle and high schools as well as retirement communities throughout the Eugene community with the goal of enriching our community through music. Anthony and Jessica have a vision to expand the repertoire for this ensemble and together they have commissioned many new works that can be heard on their debut album, Black and Gold. The album was released in November of 2019. Dr. Aguayo is a founding member of the Emerald City Trio and Ultraviolet Winds, two Eugene based chamber ensembles that strive to perform for and serve our community.
At the University of Oregon, Anthony served as the Graduate Instructor of Clarinet. He taught applied lessons to a large portion of the clarinet studio with students majoring in clarinet performance, music education, general music, and non-music majors. He also taught the clarinet techniques course for music education students and coaches various undergraduate chamber music ensembles. Teaching the next generation of musicians is one of his greatest passions and he strives to inspire, support, and encourage all who study under him. Many of his former students have achieved high placements in the New Mexico and Colorado All State Orchestras and Bands as well as regional honor bands. Additionally, many of his students have been accepted to prestigious music schools for undergraduate study, such as the Eastman School of Music and the Manhattan School of Music.
For more information, please visit anthonyaguayo.com
Discover your relationship with music.
Through private lessons, group classes, summer camps or early education, begin your journey today.  Inquire about your first lesson or joining a class.
"Matthew has that rare gift in a teacher where he pushes students to face challenges they never could have tackled on their own while keeping up with their strengths, interests, and enthusiasm.

The structure of his lessons is innovative. He and his other teachers give the students a variety of approaches to challenging music. They have opportunities to workshop and perform, which really builds a sense of accountability and community. In just a year of lessons, my kids have become passionate about classical music and music theory, with no obvious convincing on his part.
Seriously. This is a rare talent in a mentor. I cannot recommend this studio highly enough."
Woodwind Music Lessons – Oboe
The earliest oboe-like instrument was a medieval reed instrument from the 14th century, which was played mainly for military purposes.
Although it looks a lot like a clarinet, oboes need two thin pieces of wood placed on top of one another in order to make their sound, instead of one.
Oboe players are well-known for having an outstanding pitch, which could be why orchestras still tune to them in every rehearsal and concert.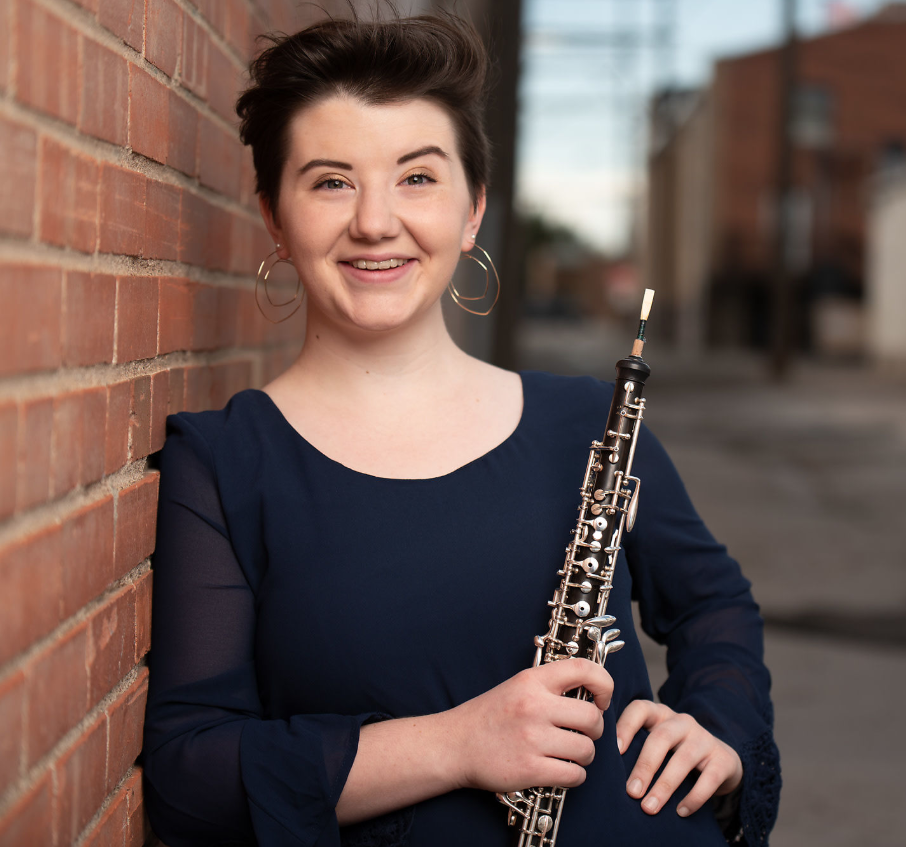 Rebecca Keller
Oboe
Originally from Colorado, Rebecca began playing the oboe in 8th grade after encouragement from her band director to switch from the flute. Since then, Rebecca has built a love for classical music and performance. While so much of the oboe repertoire comes from the Baroque era, she also enjoys working on new compositions and expanding her knowledge of extended techniques. 
Rebecca earned her Bachelor of Arts degree from Luther College in Decorah, Iowa where she travelled abroad to Vienna, Austria with the Luther College Symphony Orchestra and Spain with the World-Famous Luther College Concert Band. Rebecca earned her Master of Music in Oboe Performance at the University of Northern Colorado and where she played with both the Early Music Ensemble and Contemporary Ensemble, as well as the Longmont Symphony Orchestra.
Rebecca is currently finishing her Doctoral degree in Oboe Performance at the University of Oregon where she assists with the oboe studio in reed making and teaching lessons. She currently plays with the UO Orchestra and a Reed Quintet (oboe, bassoon, Bb clarinet, bass clarinet and alto saxophone) at the university, works with Oregon Mozart Players, teaches private oboe students, and has been a member of Orchestra NEXT. Rebecca's teachers include Lisa Brende-Martin, Dr. Heather Armstrong, Dr. Laura Medisky, Dr. Euridice Alvarez, Timothy Gocklin, Melissa Peña and Dr. Dieter Koch. 
Woodwind Music Lessons – Saxophone
Saxophones come in a variety of sizes (soprano, alto, tenor, baritone, and bass) and are very popular in jazz music, although they are also used in classical music.  
Saxophones are actually one of the youngest instruments in the classical world. Although often associated with jazz, the saxophone was invented in 1864, many years before the development of the early 20th-century genre. Although saxophones are now typically made out of metal instead of wood, they're still a member of the woodwind family because they have a single-reed mouthpiece, just like a clarinet.
The saxophone is one of the easier instruments to pick up on, partially because the scales run up and down the keys, making it ideal for beginners or people who are switching from the piano or other woodwind instruments.
ABOUT OUR SAXOPHONE TEACHER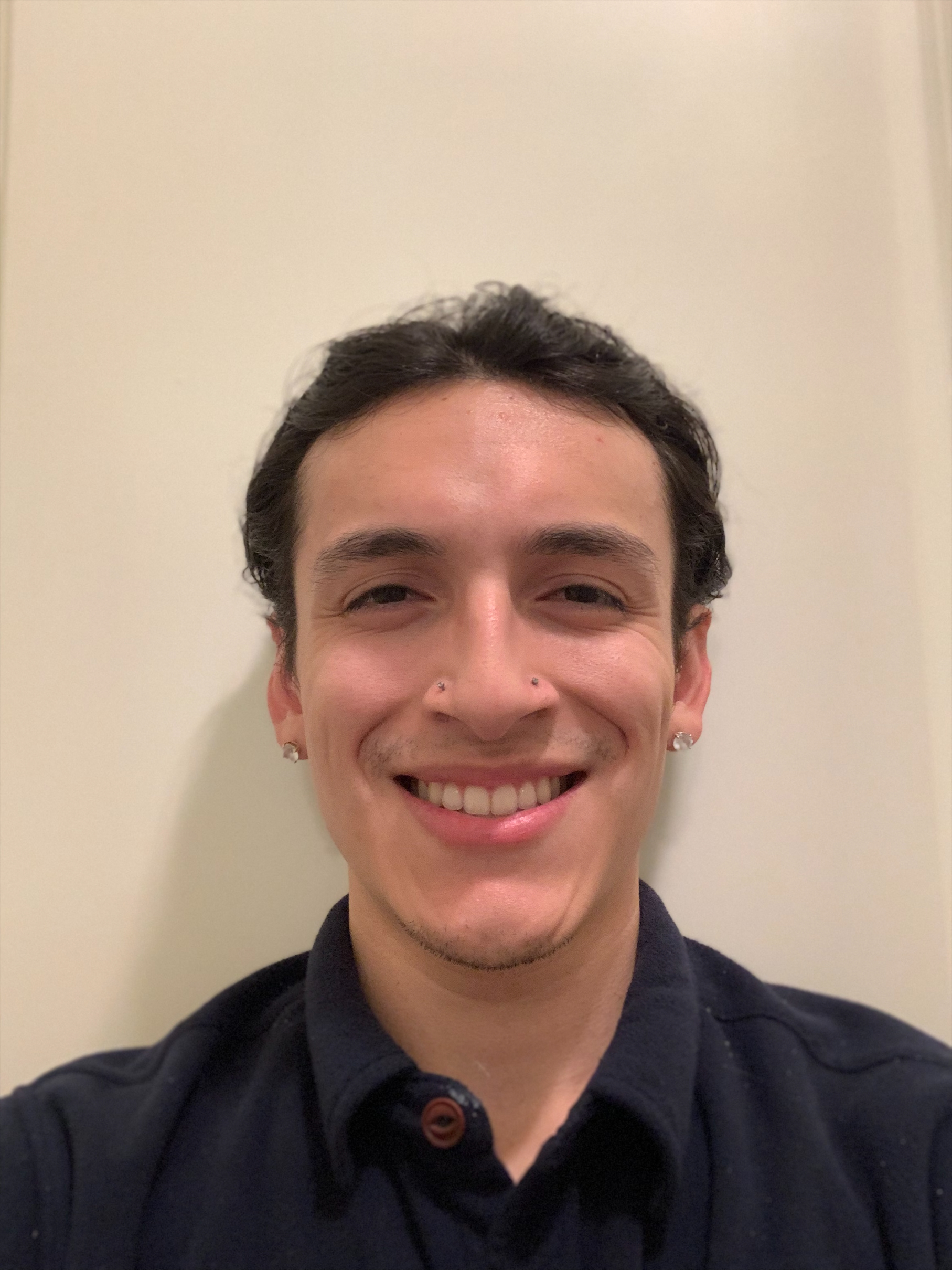 Jason Villa
Saxophone
Jason's interest in music sparked in elementary school when he decided to enter a talent show to impress his classmates by playing the guitar. To learn music, he sent letters back and forth with his grandfather in prison until he switched to saxophone in middle school. In he participated in district and county honor bands for 3 consecutive years as a jazz baritone saxophonist and was also the bass clarinetist for Redlands Youth Symphony in 2018. He now plays saxophone under the direction of Dr. Idit Shner at the University of Oregon and is pursuing his bachelor's in music education with a focus in band. He has participated in numerous groups including the Oregon Wind Symphony, saxophone quartets, and saxophone ensembles. In addition to that, Jason is also the president, director, arranger, and guitarronista of UO Los Fandangueros, a group dedicated to sharing regional Mexican music with the community.
Jason believes that anybody who loves music is capable of making it; and is committed to teaching his students the skills that they need to make the music that they want to play. His favorite genres are mariachi, soul, progressive metal, and orchestral. Aside from music, Jason is also a chef at a restaurant and spends his minimal free time playing competitive video games online with friends.
Woodwind Music Lessons – Flute
To be hired soon!  If you are looking for a position as a part-time flute instructor please reach out to Matthew Pavilanis at 269-267-3664.
Discover your relationship with music.
Through private lessons, group classes, summer camps or early education, begin your journey today.  Inquire about your first lesson or joining a class.