Discover your relationship with music at our music school in Eugene, Oregon.
Contact us about music lessons today!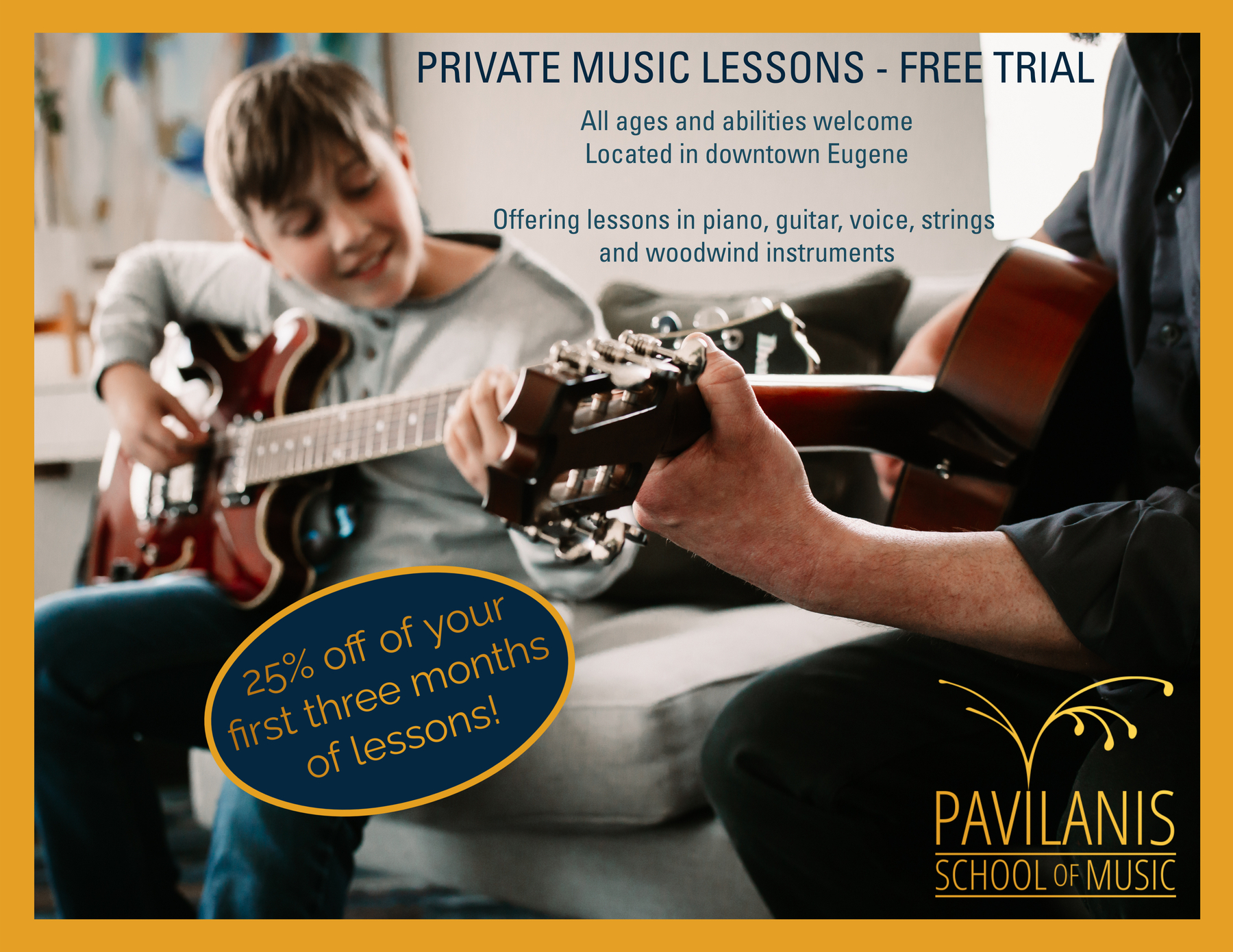 Discover your relationship with music at our music school in Eugene, Oregon.
Contact us about music lessons today!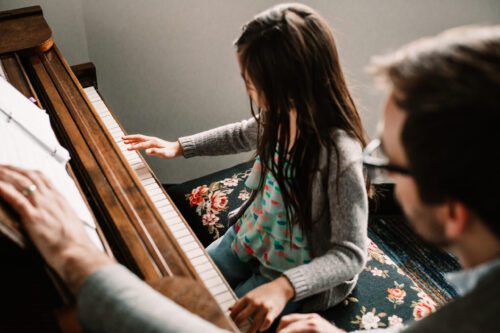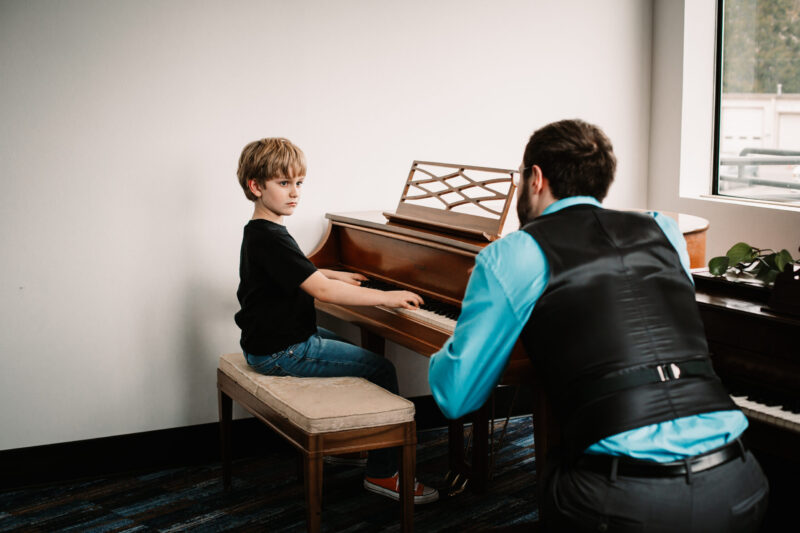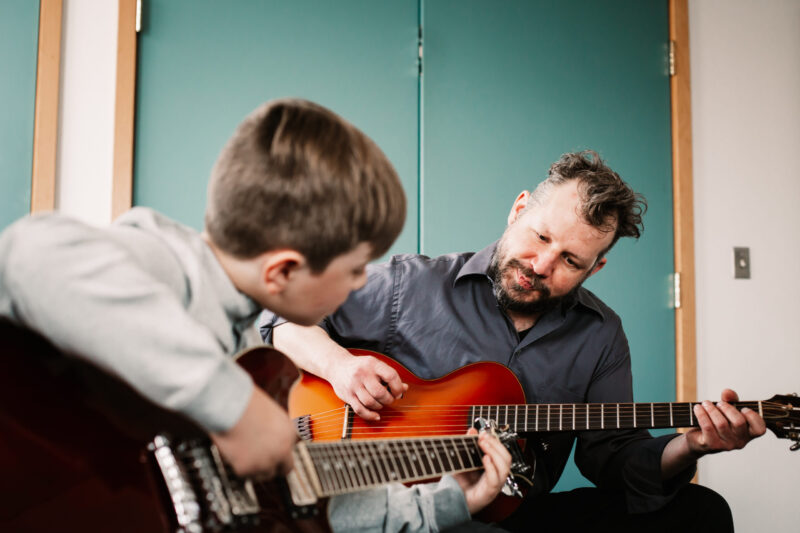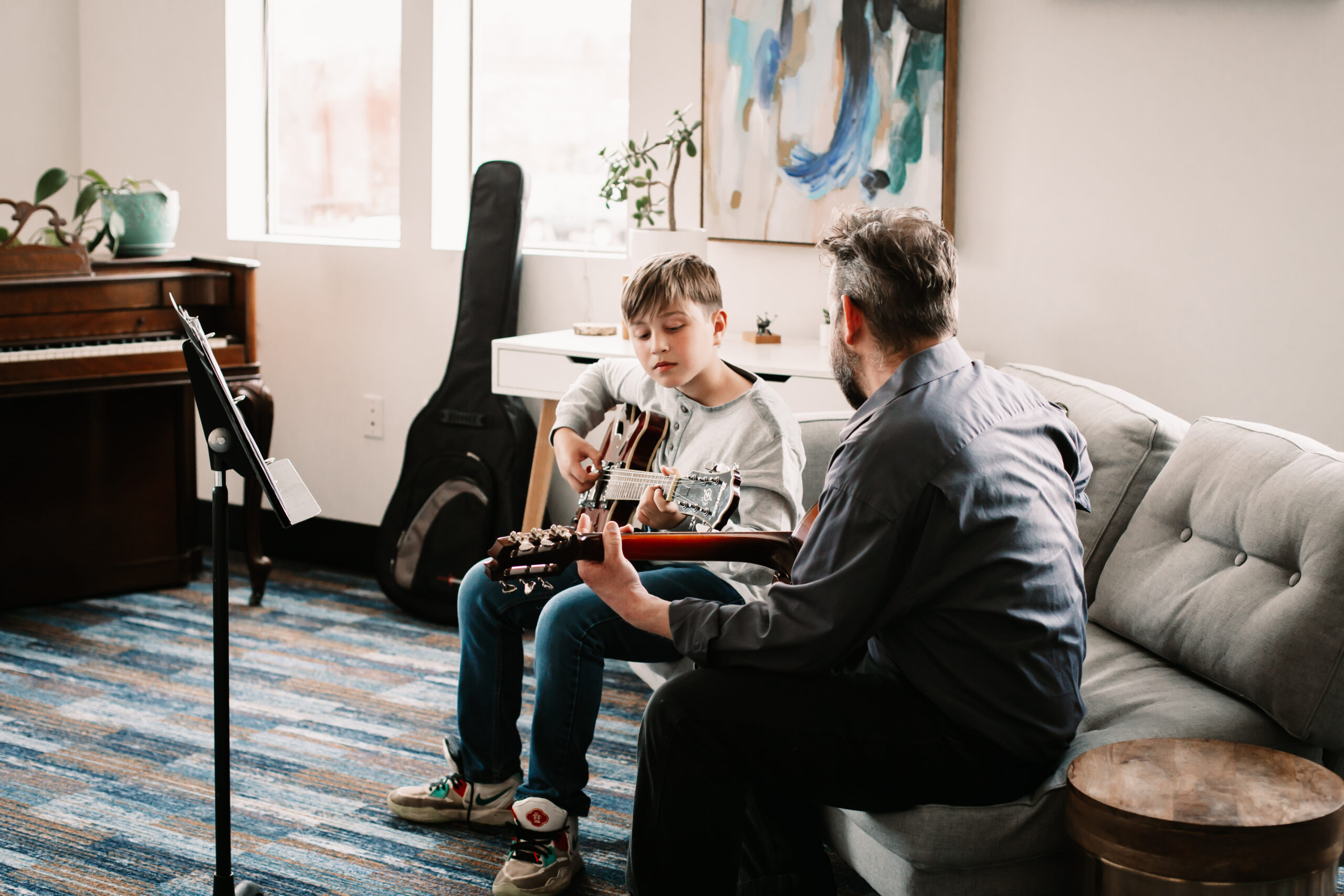 Eugene-based music school aims to create community through student centered music lessons and courses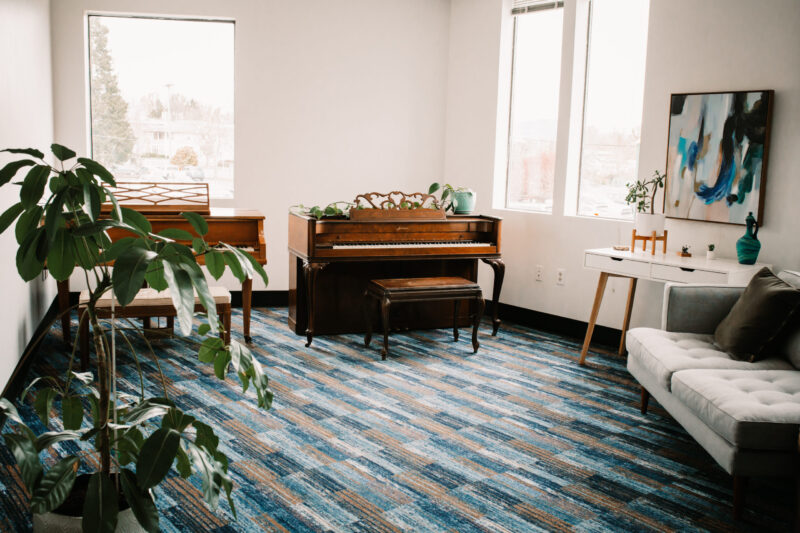 The Pavilanis School of Music, located Eugene, OR, is an inclusive establishment for people of all ages, all backgrounds and all abilities to form a deeper relationship with music.  We encourage expression through music and work to increase musical culture in the Eugene/Springfield area.  Located in downtown Eugene near the 5th Street Market, the Pavilanis School of Music offers private music lessons, group classes, music courses and an early education program.  If you are looking for music lessons near you, please consider us!
"Matthew and his school of music are the BEST. My 9 year old daughter has been taking piano lessons from Matthew for three years now and has had so much growth. Matthew is engaging, personable and fun and is also very adaptable when needed. He puts a lot of care and thought into each students personal goals and achievement by structuring lessons to include aspects of theory, repetition, musicality and performance. My daughter has participated in numerous recitals and quarterly workshops and continues to learn and grow."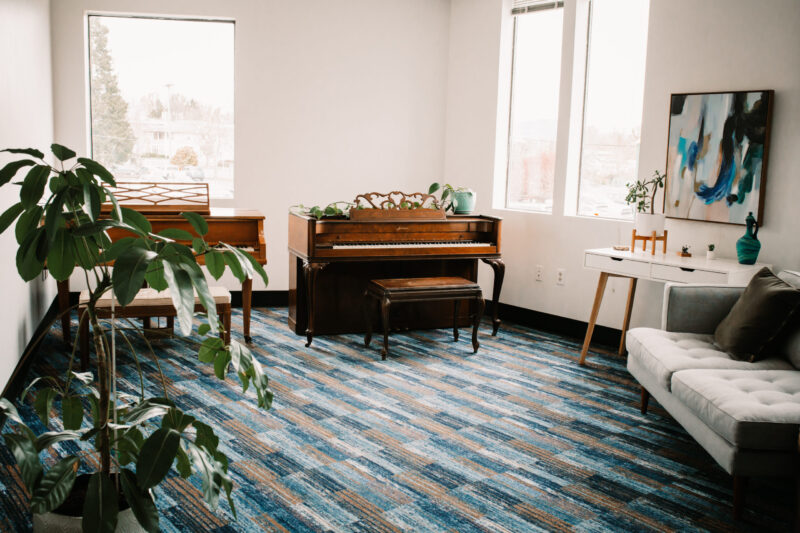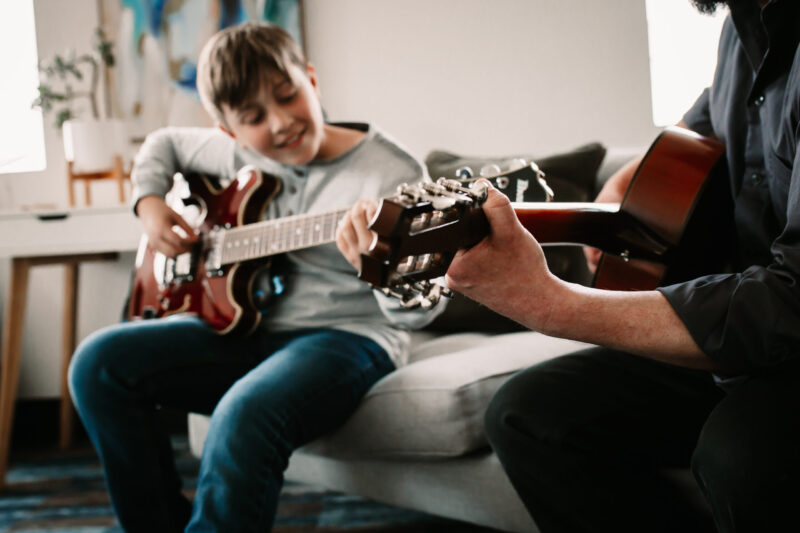 Bringing People Together Through Music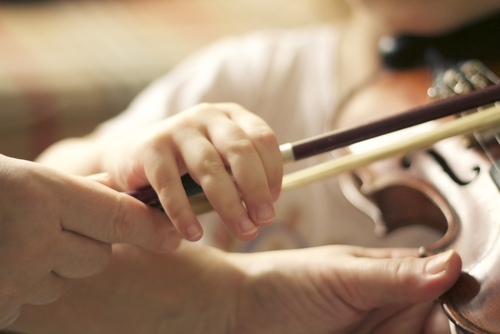 Private Music Lessons
 The Pavilanis School of Music offers private music lessons in piano, voice, guitar, and strings.  Our main goal in teaching is to instill a love of music, no matter the age.  We adjust our teaching program and style to suit children and adults with a wide range of learning styles, while also making sure that all students receive a strong foundation in technique, improvisation, and music theory.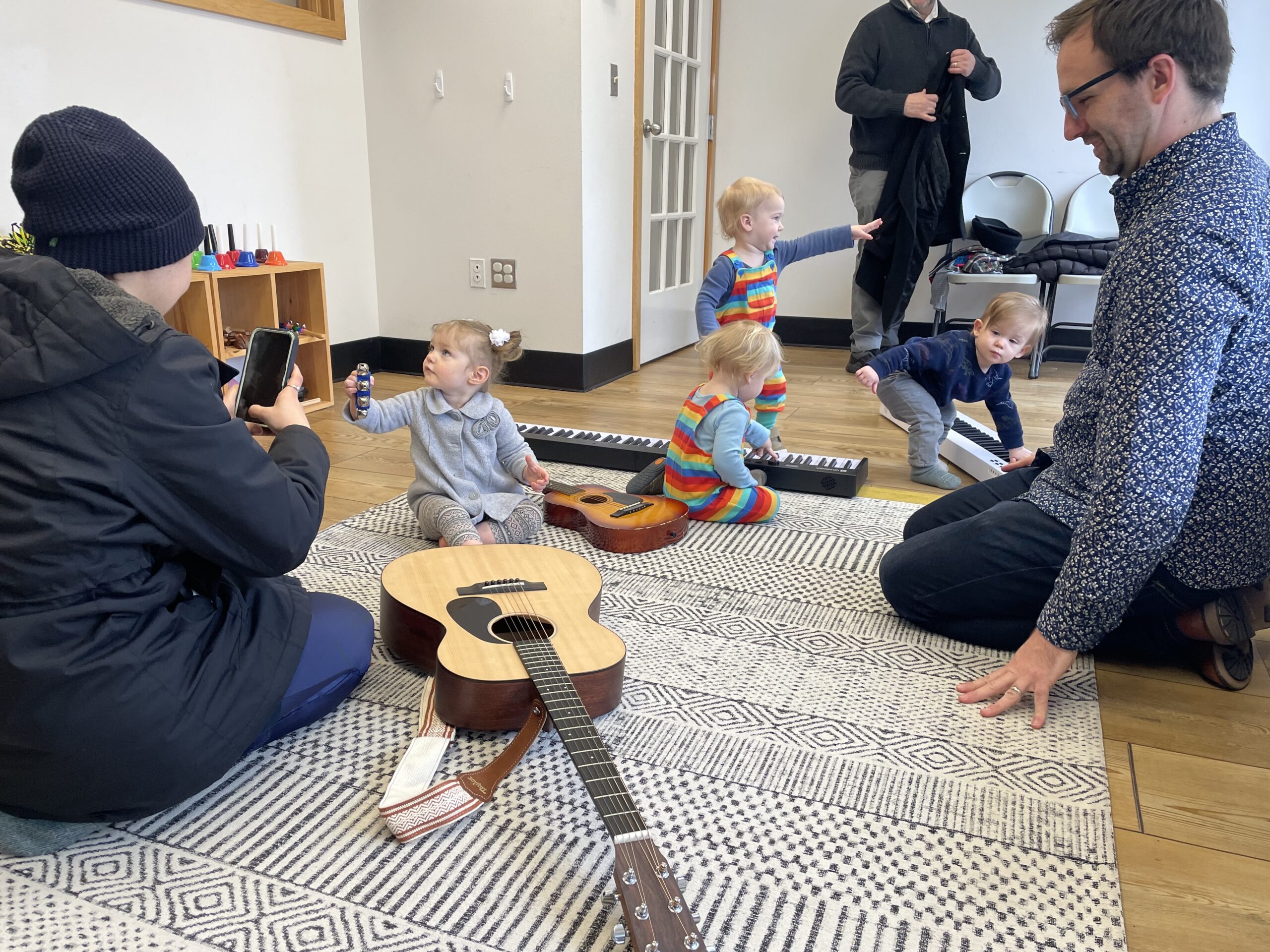 Early Education
We offer a number of programs for children ages 0-9.  We aim to nurture early musical development and community building for our young ones.  Click to learn more about descriptions, class times and pricing. Classes are on pause for the summer but we plan to resume in the Fall of 2023.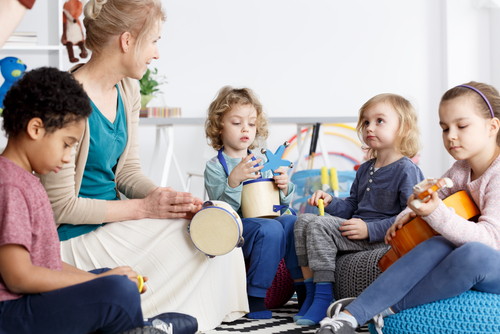 Group Piano and Guitar Music Lessons
 We will regularly be offering campfire group guitar classes and group piano classes for all ages.  This can be a great way to start your journey of music lessons. Click through to learn more and register!
What People Are Saying About Our Music School
Maile Urbancic
There are lots of teachers who can teach the technical playing of an instrument. There are fewer teachers who can inspire a love of music within a child. And there are FAR fewer teachers who can do both.
Matthew Pavilanis is a rare find in a music teacher…the best I've ever encountered. He gets to know his students and teaches them at their level and incorporating his students' interests. For example, my ten year old son likes math and patterns, so Matthew has been teaching him music theory along with the usual performance pieces. My son soaks it up and understands more music theory now than I did even by high school. Other kids in Matthew's studio enjoy singing, so Matthew has taught them how to sing and play at the same time. Some of his students like jazz music, so they focus on that. I'm not a pianist, so I don't know the typical progression for piano students, but I get the impression that his students are improving faster than most kids do. Or, at least I am consistent impressed with the level of playing at the recitals.
If you are looking to sign your child up for piano lessons, I cannot recommend this teacher enough.
Desmond Tee
My seven-year-old daughter and ten-year-old son are approaching three years of lessons with Matthew. We are impressed with their progress and rate of learning within such a short time period. Matthew has a unique ability to adjust his teaching to meet the learning styles of my children and to work with their strengths and challenges. His creative modes of teaching inspire a love for music and offer a strong foundation in technique, improvisation, and music theory. Give him three months, and your child will be a budding pianist. Give him two years, and your child will perform at intermediate level. Give him five years, and your child will be an advanced pianist. He will not disappoint. We are especially impressed with his ability to help maintain a sense of normalcy for our children during this past pandemic year. His transition from in person lessons to online teaching was seamless. We are excited that he is expanding his business to offer more education, and has relocated his home business to the Fifth Street Market.
Lindsey Bingham
Matthew and his school of music are the BEST. My 9 year old daughter has been taking piano lessons from Matthew for three years now and has had so much growth. Matthew is engaging, personable and fun and is also very adaptable when needed. He puts a lot of care and thought into each students personal goals and achievement by structuring lessons to include aspects of theory, repetition, musicality and performance. My daughter has participated in numerous recitals and quarterly workshops and continues to learn and grow. We are extremely excited about the new studio space and opportunities for more musical advancement. Finding Matthew when we first moved to Eugene three and a half years ago was a huge win. Thank you, Pavilanis School of Music!
Bee Malihini
Matthew has that rare gift in a teacher where he pushes students to face challenges they never could have tackled on their own, while keeping up with their strengths, interests and enthusiasm.
The structure of his lessons is innovative. He and his other teachers give the students an variety of approaches to challenging music. They have opportunities to workshop and perform, which really builds a sense of accountability and community. It just a year of lessons, my kids have become passionate about classical music and music theory, with no obvious convincing on his part.
Seriously. This is a rare talent in a mentor. I cannot recommend this studio highly enough.
Devin Newman
We have two children that Matthew has been teaching Piano for more than four years. They have absolutely thrived under his tutelage. His enthusiasm, humor and skill have made the lessons enjoyable for them. The pride and love for music that is being fostered is amazing. Matthew has been very receptive to tailoring their musical education to their own interests which has helped keep them practicing. I would highly recommend the Pavilanis School of Music to everyone!
Linda Clarke
Matthew Pavilanis is truly an exceptional piano teacher and person. Our 11 year old daughter has had weekly piano lessons with him this past year and Matthew has been a most excellent and wonderful teacher for her. He is strong in all areas needed to be a great teacher. He has consistently been compassionate, empathetic, kind and patient. He really is skilled at connecting with our daughter's interests and life, inspiring her to achieve her best. He also is very intelligent and talented in piano and music techniques and theories. He is a great communicator. Matthew always has an organized teaching plan. He listens with respect, and explains everything and makes it fun. I believe he really has all the qualities to truly help students achieve their best. We are very grateful to have him as our daughter's piano teacher and mentor.
Chris Tee
Matthew teaches my four year-old and seven year-old. His method to teaching piano is akin to teaching literacy with a balance of whole language and phonics—his teaching method includes a combination of piano theory/formal techniques and sensory/auditory learning styles. This is perfect for my four year-old who is just learning to read.
Matthew provides a variety of music—from book volumes to random pieces that perk the interests of my children. His curriculum has a wide breadth. Matthew has a knack for accommodating and modifying his instruction so that my kids can be successful and enjoy their learning. He sets them up for success, and this grows their confidence. Matthew is personable and intuitively knows how to connect with my children at an intellectual and emotional level.
With only four months of piano under my children's belt, they performed at their first recital. Their level of skills is astounding to me.
Jay Uhlman
We were fortunate to have Mr. Pavilanis as a piano instructor for our daughter (13) and son (10) before we had to move out of Eugene. He was willing to offer before school, early morning lessons, which worked out really well for our busy family. The relationships he developed with each child was unique to their personality, always genuine, and very supportive. After 4 years with a different teacher, we had transferred to his studio and Matthew was able to fill in the knowledge gaps with his excellent understanding and explanations of piano theory while further helping to develop their skills and love for piano. For example, our daughter went from playing out of a method book to playing a Bach 2-part invention and Chopin Waltz in 8 months. Our son was encouraged to develop is own sense of style and played the theme song to Rocky on the end of year recital. Matthew himself is an avid performer, which provides a wonderful opportunity for his students to see what hard work and excellence can bring.
We recommend Mr. Pavilanis for families and students who are looking for a highly skilled, devoted, and fun piano instructor.
Tammy
I was amazed how much my daughter learned in such a short range of time. Matthew worked with her personality and interests to keep her engaged and excited, which isn't easy to do with her. After only a few months, I am shocked at how quickly she learned and how often she initiated practicing. She truly enjoys playing music thanks to his lessons. Matthew is an excellent teacher and I am so excited we found him.
Katie St. Clair
Matthew Pavilanis has challenged and excited our children with piano lessons. His creativity and willingness to help students discover the styles and pieces of music that spark and encourage growth is tremendous.
Dave Schenderlein
Matthew gave our daughter private piano lessons for about 2 years. He is an outstanding musician and teacher who helped her understand not just the mechanics, but the spirit of music. Our daughter made great progress with Matthew and enjoyed his friendly and gentle teaching style. She grew in ability as well as confidence and culture. Highly recommended!
Phillip Ross
We are so happy with this school. Lessons are enjoyable and my son has learned so much. They are so patient and the learning process is individualized to him.
Emilie Hooft
Matthew constantly pays attention to the needs and development of the student and adjusts his teaching style and materials accordingly.  He takes the time to develop a good relationship with each child and shows interest and concern in their daily activities.  Matthew has clear expectations for what it takes to complete and perform a piece well.  Our oldest daughter as found real enjoyment in playing the piano, our other daughter has grasped the challenge of producing her lovely tone at the recital, and for our son it is an outlet for his energy and emotions.
Crystal Thomas
Matthew is an amazing piano teacher. My nine year-old son had been taking piano lessons for two years and knew the basics. When Matthew became his teacher, a whole new musical experience began. Jack has blossomed with Matthew. He has learned how to read music, play with both hands, listen carefully to how music is played, with all of the different nuances, and really enjoys the piano. He looks forward to lessons. Matthew has a way of interacting with Jack that keeps him interested and wanting to learn more. I highly recommend Matthew as a piano teacher. He has a gift with music and children that we are fortunate to have discovered.
Cheryl Brunader
Matthew has a wonderful gift for creatively integrating music theory with the music my daughter plays. He is encouraging, patient, and enthusiastic in his approach. She leaves each lesson excited to learn more, and has made great strides in a short time. We highly recommend him!
Christine Kollmorgen
Matthew has instructed my step children, ages 12 and 13, as well as my husband in both piano and guitar for over a year now. He is a brilliant and accomplished musician who also has the gift of being a talented teacher. He believes that we are all capable of appreciating and practicing the art of music. With a gentle but consistent and patient style, he has opened up the door to playing music for all three of my family members. Whether you are a casual learner or someone who wants to dedicate his or herself to music, Matthew is the perfect choice!
Michelle Smith
The amount of pride and passion Mathew carries out in his work of music cannot be measured in words. He has an ability to relate with my son's interests to help him learn individually, as well as paying attention not only to technical detail, but to the emotion and story that every piece of music should express. Knowing that my son has been given the opportunity to learn under him gives me a sense of pride for my son. I feel fortunate that my son has Mathew as his instructor. Thank you Mathew Pavilanis!
Ashley Wolfe
Our two boys had been taking piano lessons for several years before they began taking lessons from Matthew. Within a couple of months, their playing improved dramatically. More importantly, their enthusiasm for lessons and practice really took off. Matthew strikes a great balance between being firm and making lessons fun. His love of teaching is obvious, and his passion for the piano has been contagious to our boys. Matthew recognizes our sons' unique temperaments and needs and is able to tailor his teaching to meet those needs. The thought and care that he puts into his teaching is wonderful to see. We feel so lucky to have found him!
Chuck Gottfried
As an adult beginner, I selected Matthew as my teacher based on his experience and interests. But I stayed with him because he carefully analyzed my learning style and musical interests, and worked to make my learning effective and interesting. I recommend Matt as an effective and engaged mentor, and an outstanding educator.
Elise Hammond
Matthew is inherently thoughtful as a person. When he teaches, this quality shines through . I have two children who have taken lessons for almost four years now. Matthew discusses with me what he observes and what areas my children could focus on for the week or month. He is always concerned that they find a love for the music, not just being present at lessons. I especially appreciate that he helps my children understand that playing a song is like sharing a story or conveying feelings. To communicate to ourselves or others through music is a beautiful thing. Thank you Matthew!
Customized Music Lessons For Every Student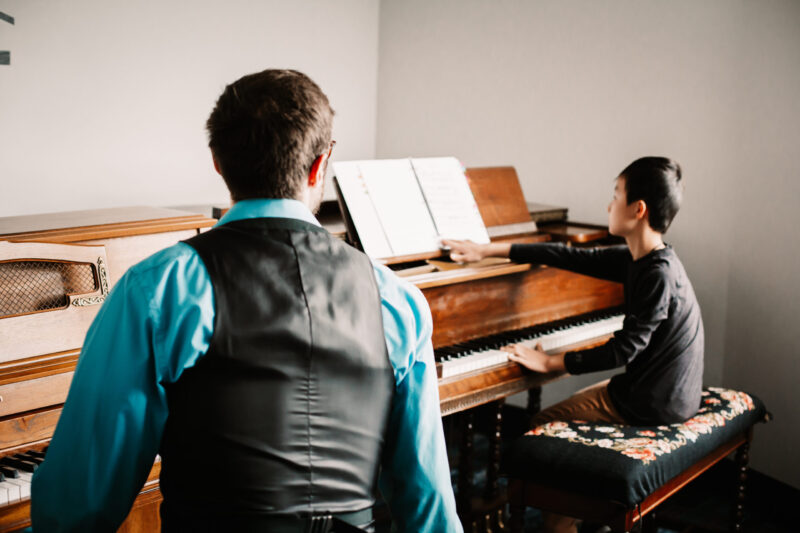 All students have different needs and desires when it comes to learning a musical instrument.  Whether a student wants to become a concert artist or a recreational music maker, our job at the Pavilanis School of Music is to give the student the skills needed to reach their goals.  Individualized instruction through private music lessons and performance opportunities help in providing the correct approaches to musicality, technique and creativity for each student.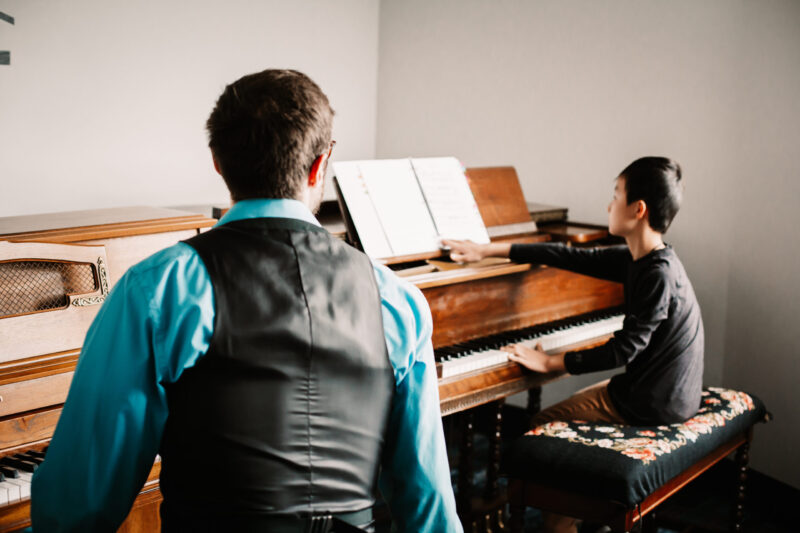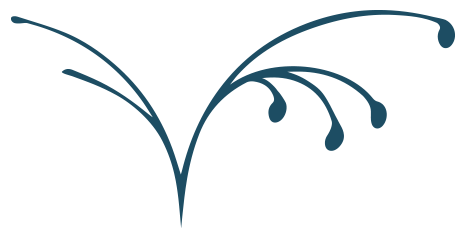 Emotional awareness and understanding
Language exposure and development
Improved memory
Music pulls together many different facets of memory as we need to recall different muscular movements, pitch content, visual cues, theoretical concepts, and emotional intentions. Music helps explore all of these forms of memory simultaneously which is a truly unique feature of the activity.
Studies also show that music lessons can improve memory impairment. Among others, a 2019 study suggests that "a focal musical activity can be a useful intervention in older adults to promote an enhancement in memory."  Study linked here
Cognitive development
Students pursuing music lessons work to develop their fine motor skills. Students also learn bodily awareness and hand-eye coordination.  This development proves most helpful for young children.
A Harvard-based study found that children who study through music lessons for at least three years outperform children with no instrumental training.  This happens in both tests of auditory discrimination and finger dexterity, which are typically associated with playing music, and in tests measuring verbal ability and visual pattern completion, which are not normally associated with music.  Study linked here
Middle school and high school students who are involved in instrumental music show significantly higher levels of mathematics proficiency by grade 12, regardless of socioeconomic status. (U.S. Department of Education).
Emotional awareness and understanding
Music improves mental health and quality of life. Music gives us a way to communicate through activity and sound and provides an outlet for creative, positive self-expression. It also allows us to better understand the expression of others through the interpretation of musical pieces. It can help us realize how diverse, nuanced, and dynamic human expression can be.  
Creativity takes a dual form in music - we can express ourselves through our own musical creations or through another's creations.  The composer and interpreter allow for a diverse range of activities and engagement.  
Language exposure and development
Music lessons offer a huge benefit to language studies as music is in fact a language with grammar and semantics.  Musical studies focus on the comprehension of sounds and their production but also understanding a larger context of their meaning.
Social and community benefits
We experience music initially from the songs that are sung to us as a young children. These melodies can give us a sense of belonging.  Music-making extends to larger groups like bands, symphonies, chorals, and small ensembles which allows for a group of people to have a shared form of expression. This shared expression can bring joy and humor but also mourning and catharsis.  
Students who participate in school band or orchestra have the lowest levels of current and lifelong use of alcohol, tobacco, and illicit drugs among any group in our society. (U.S. House of Representatives, Concurrent Res. 266, June 13, 2000, cited from Concord Conservatory). Older Americans who are actively involved in music show improvements in anxiety, loneliness, and depression issues that are critical in coping with stress, stimulating the immune system, and improving health (American Music Conference 2007, cited from Concord Conservatory). 
Work ethic
Music-making at any level requires hard work, focus, and dedication.  It is quite incredible how much cumulative effort can go into 10 seconds of music!  These qualities are internalized through the pursuit of music and music lessons and help students more easily establish them in other areas of life.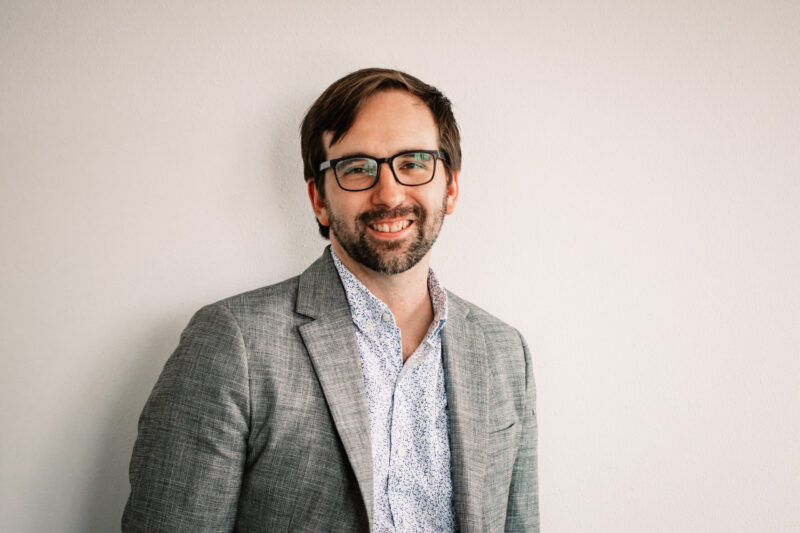 Matthew Pavilanis
Owner, Piano
Originally from Michigan, Matthew Pavilanis is a young, enigmatic classical pianist whose main goal is to share his passion and love for music through performance and instruction. Matthew received a bachelor's degree in music from the Western Michigan University (2008) and a master's degree in music from the University of Oregon (2011), both with an emphasis in Piano Performance. His teachers have included Dean Kramer, Silvia Roederer, Claire Wachter, David Riley and Cary Lewis. Matthew is currently active as an instructor and solo and collaborative performer in Oregon. Although Matthew has had performance experience in all periods of classical music, he has a special interest in the interpretation and performance of contemporary classical music. Matthew has also performed with Beta Collide, the Oregon-based cutting edge new music ensemble. Beta Collide, directed by Molly Barth (formerly of eighth blackbird) and Brian McWhorter (formerly of Meridian Arts Ensemble), focuses on the collision of musical art forms – from new complexity to ambient; from low-brow to high-brow; from radically extended technique to site-specific improvisation; from popular to the academy. Matthew is also an accomplished piano and guitar instructor, having taught and maintained a studio of young pianists for the past twenty years.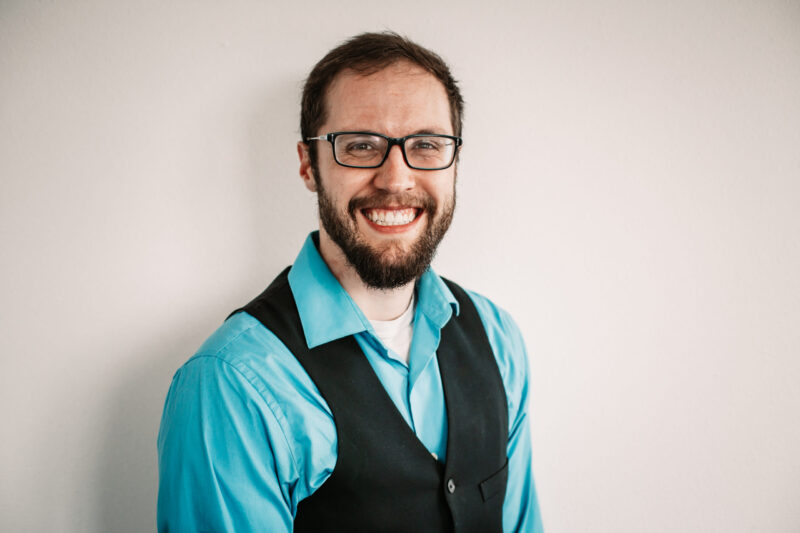 JP Lempke
Piano / Composition / Electronic Media
JP Lempke is a composer, electronic musician, and digital artist whose works unashamedly embody the absurd, out-of-place, and purely bizarre.
 In the realm of composition, Philippe Spiesser, Juanjo Llopico, Kanae Mizobuchi, Unassisted Fold, and Oh My Ears have brought his strange soundscapes to life. His works have been performed throughout Europe, Asia, and the United States at events like the SEAMUS National Conference, RADIA, Forum Wallis, the International Computer Music Conference, Electroacoustic Barn Dance, and others. He is a winner of the American Guild of Organists Student Commissioning Project, as well as a nominee for the Destellos Foundation Electroacoustic and Video-Music Competition.
In 2020, JP became the executive director of the Eugene Difficult Music Ensemble, which performs and commissions underrepresented experimental works in order to open ears and minds. Under his watch, they created the Eugene Garbage Project, a year-long quest to collect trash from the local community and transform it into a concert-length work for voice, electronics, and animations. After the premiere in May 2021, the group brought an interactive installation version to the community as part of ArtCity's Beam the following October. They continue to regularly perform and record works by underrepresented musicians and groups.
As a digital artist, JP specializes in time-based pieces, such as multi-screen video murals and projection mapping, using mixed animation styles. These include frame-by-frame, keyframe, and stop-motion animation, as well as film. In addition to creating the visuals for the Eugene Garbage Project, his work has been featured as part of Dimensions Between, a week-long showcase for a 21-screen installation Eugene's Gordon Hotel. He is currently creating the assets for a riichi mahjong video game slated for release in 2022 and has recently dived into the world of NFT creation.
JP's teaching credentials include a small private piano studio he operated in his home state of Nebraska, collegiate music tutoring, and classroom instruction in aural skills, theory, and piano. He joined Matthew Pavilanis's piano studio during the summer of 2021 and continues to work there to the present day.
JP earned his BM in Composition and Piano Performance with Pedagogy at the University of Nebraska – Kearney and his MM in Composition at Arizona State University, where he operated as the co-director of the laptop orchestra. He has additional years of study in data-driven instruments and music theory from the University of Oregon. His instructors are Darleen Mitchell, Anthony Donofrio, Jody Rockmaker, Garth Paine, and Kotoka Suzuki. He lives in Eugene, Oregon.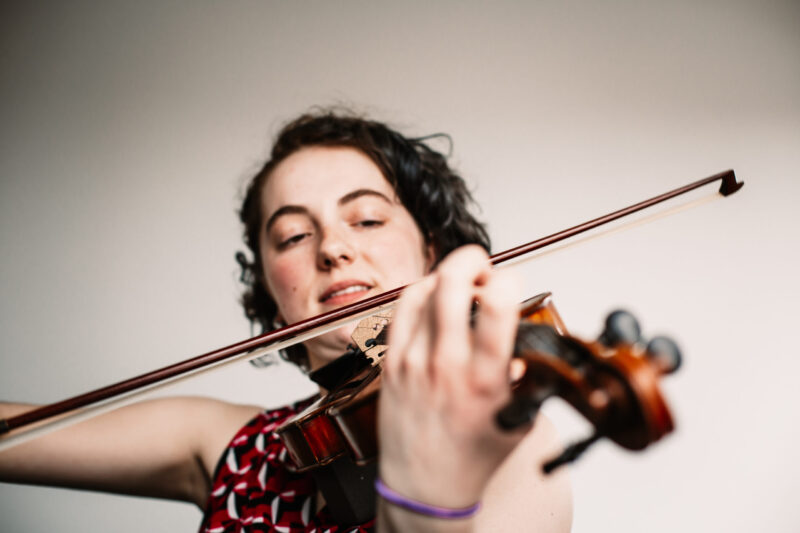 Lily SlatonBarker
Violin
Lily SlatonBarker has been playing violin since 2011. She started her performance career in Anchorage, Alaska learning the Suzuki Method privately with Dawn Lindsay. She was Concertmaster of the West Anchorage High School Symphonic Orchestra, and the Anchorage Youth Symphony, and won the Concerto Competition with AYS in 2018, performing the First Movement of Lalo's Symphonie Espagnole.  Now, she is a student of Shelley Rich at the University of Oregon, and will complete a Bachelor of Music in Violin Performance and a Studio Teaching Specialization in 2024.  She plans on continuing to a Doctor of Musical Arts in Violin Performance; She wants to teach at a college and have her own private studio.
Lily started teaching in 2017 coaching peers in her orchestras and leading group rehearsals. In 2019, she began her own small private studio. She was trained as a Suzuki Book 1 teacher in the summer of 2021 and plans to receive training for books 2-4 by 2023.
Her teaching philosophy centers around growing a love of music in her students while also teaching in a way that protects from injuries. She is writing an Honor's Thesis that seeks to develop a teaching strategy that instills body-awareness and ergonomical playing in violinists. She has struggled with injuries herself and aspires to help students avoid injuries so that they aren't forced to stop making music. Lily endeavors to help students become self-learners of music, following their goals and love of music, while providing them with the foundation for technical and musical success.
Degrees
Bachelors of Music in Violin Performance (2024)
Studio Teaching Specialization (2024)
Suzuki Book 1 Teacher-Training (2021)
Suzuki Book 2 Teacher Training (2022)
Suzuki Book 3 Teacher training (2022)
Suzuki Book 4 Teacher Training (2023)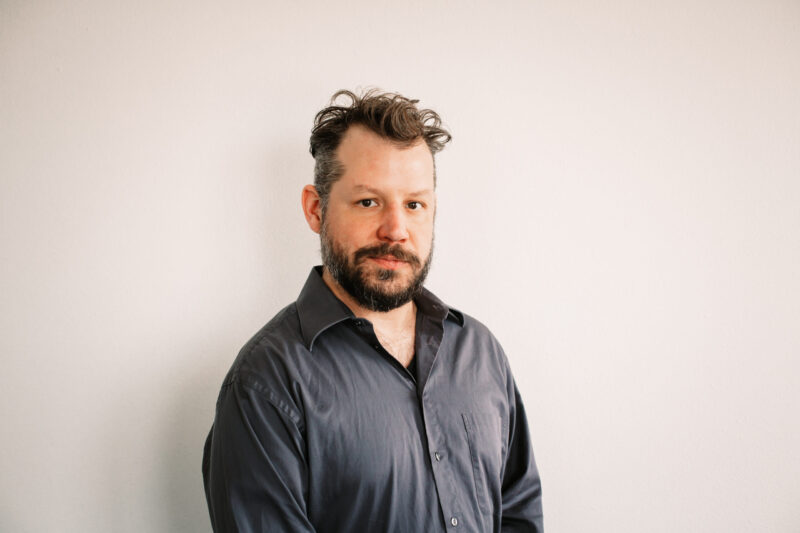 Kevin Davison
Guitar / Bass Guitar
Kevin was born and raised in Newark, Delaware. With encouraging parents who are fans of Motown, Soul, and Rock & Roll, he caught the music bug early. He started playing guitar as a child, and began studying seriously as an early teen. In high school he participated heavily in the school's performing arts
department, while also studying music theory privately with his choir director. He then went on to major in classical guitar at the University of Delaware. While there he also studied jazz and folk guitar, and taught guitar lessons at the school's Community Music Program and at a private music studio in Elkton, MD.
Kevin first came to Eugene in 2007 on a trip with a college friend, and fell in love with Oregon immediately. He moved here soon after, and shortly after that met the renowned guitar maker Ralph Novak of Novax Guitars. He began working for Novax, and with Ralph's guidance learned the craft of guitar making. Since then he has built dozens of guitars for the company, as well as a few personal builds and countless repairs and setups for customers throughout the region. All the while, he has performed as a
founding member of three different bands, and has toured up and down the west coast.
Kevin lives in South Eugene with his partner Carrie, and their two adopted cats, Zuul and Ash. Together they enjoy running, hiking, camping, skiing, and long road trips (the cats usually stay at home). Kevin and Carrie play music together, and also enjoy acting in independent films with their local filmmaker
friends.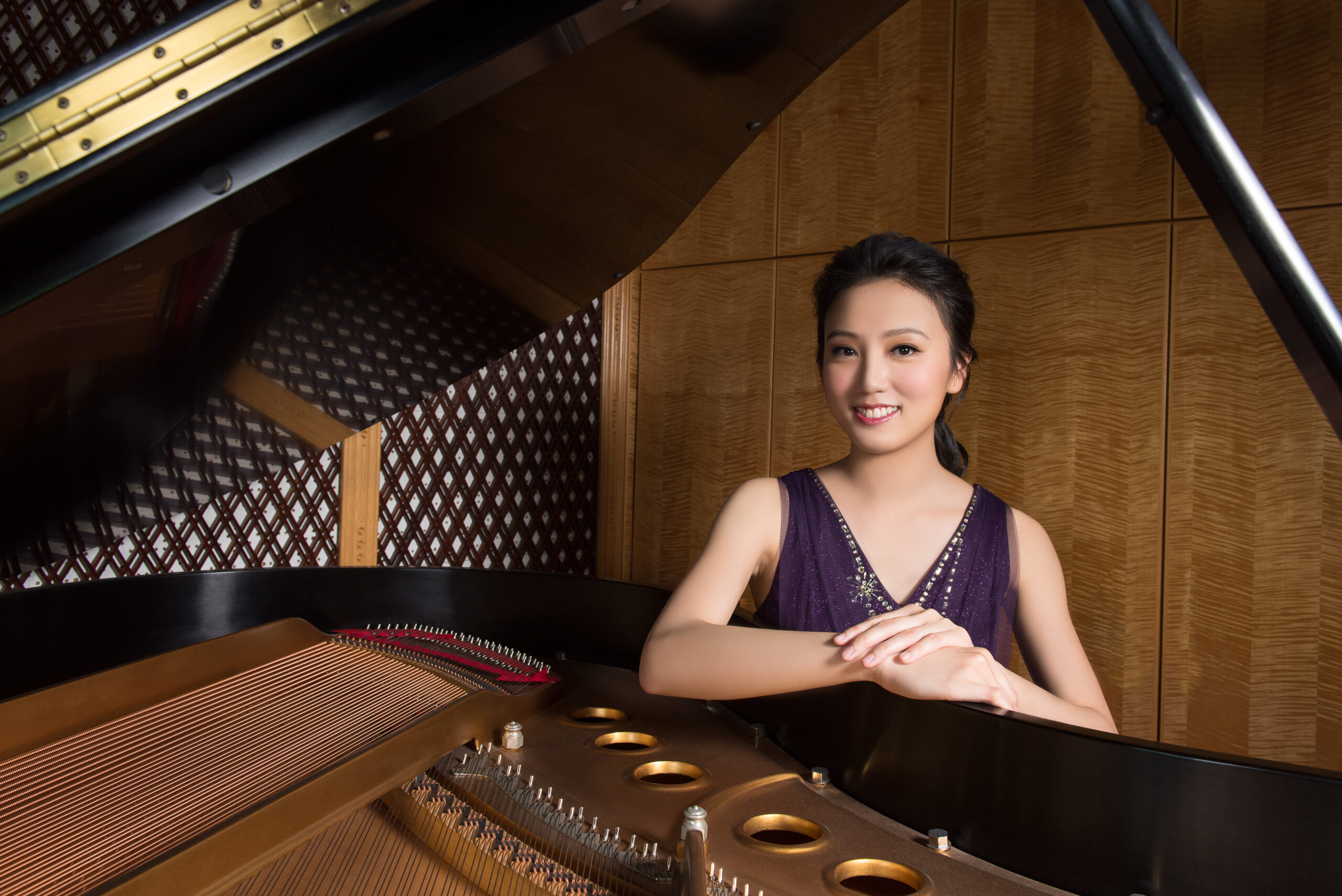 Connie Mak
Piano
Pianist Connie Mak is a performer and educator residing in Eugene, Oregon. She has given solo and chamber performances in the United States, Hong Kong, and Russia. She has performed as a soloist with the University of Oregon Symphony Orchestra and the Hays Symphony Orchestra.
Dr. Mak is the winner of 2019 University of Oregon Concerto/Aria Competition and a finalist of 2016-2017 MTNA National Young Artist Piano Competition. She has been awarded first prizes in 2016-2017 MTNA Northwest Division Young Artist Piano Competition, 2016-2017 and 2015-2016 Oregon MTNA Young Artist Piano Competitions, and 2010 Hays Symphony Young Artist Competition. She is also the recipient of University of Oregon SOMD Outstanding Graduate Performer in Keyboard, Eugene Kiwanis Club George P. Hopkins Piano Scholarship, Kansas City Musical Club Scholarship, Kansas City Musical Club Gladys Casford Memorial Scholarship for Piano, University of Kansas Zakoura Collaborative Piano Scholarship, and
Lawrence Music Club Carl Adolph Preyer Scholarship.
Dr. Mak has performed in masterclasses for renowned artists such as Stephen Hough, Anton Nel, Jon Nakamatsu, and Natalya Antonova.
Dr. Mak holds a D.M.A. in piano performance with supporting studies in piano pedagogy from the University of Oregon, a M.M. in piano performance from Cincinnati College-Conservatory of Music, and a B.M. in piano performance from the University of Kansas. Her primary teachers include Claire Wachter, Dean Kramer, Jack Winerock, and Eugene Pridonoff. Dr. Mak has served as a Graduate Teaching Fellow in piano pedagogy and collaborative piano as well as the Administrative Assistant of the Piano Pedagogy Program at the University of Oregon. She has also served as an accompanist for the Starling Preparatory String Project and the Dance Department at Cincinnati College-Conservatory of Music.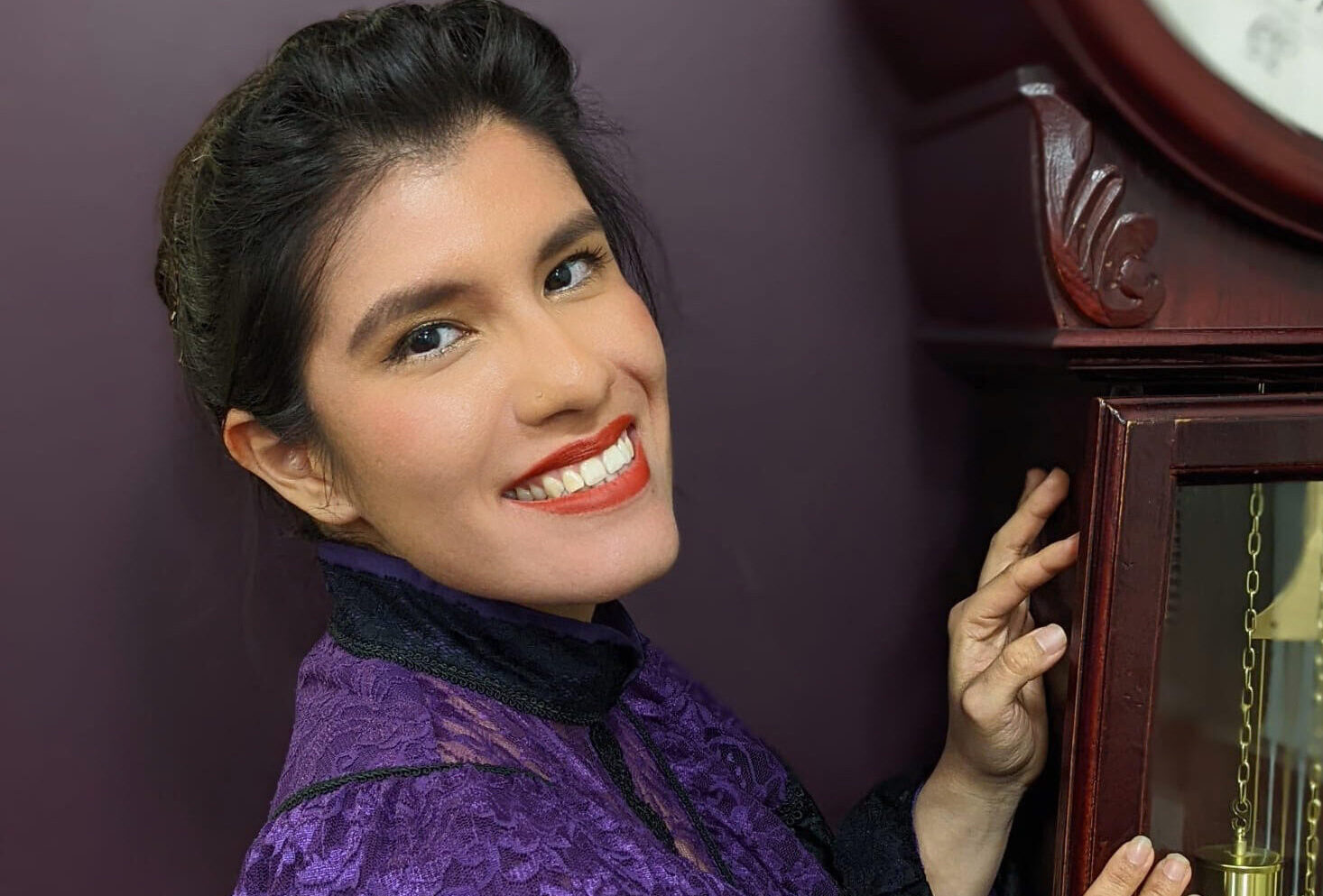 Paula Alva Garcia
Voice
Paula Alva Garcia (soprano) started her music education in Trujillo, Peru with the renowned soprano Martha Perez. She participated in numerous recitals and concerts and received several masterclasses. In 2017 she came to the United States to study with Dr. Jeanie Darnell at FGCU. She played the role of Berta in "The Barber of Seville" in Trujillo in 2018 and has also been a soloist with the Symphonic Orchestra of Trujillo many times. She has participated in several performances in and out of school and she was also an active member of Opera Naples (Florida). Currently she is studying a master's in music performance at the University of Oregon under the guidance of Dr. Camille Ortiz, where she performs with the Opera ensemble and has GE duties.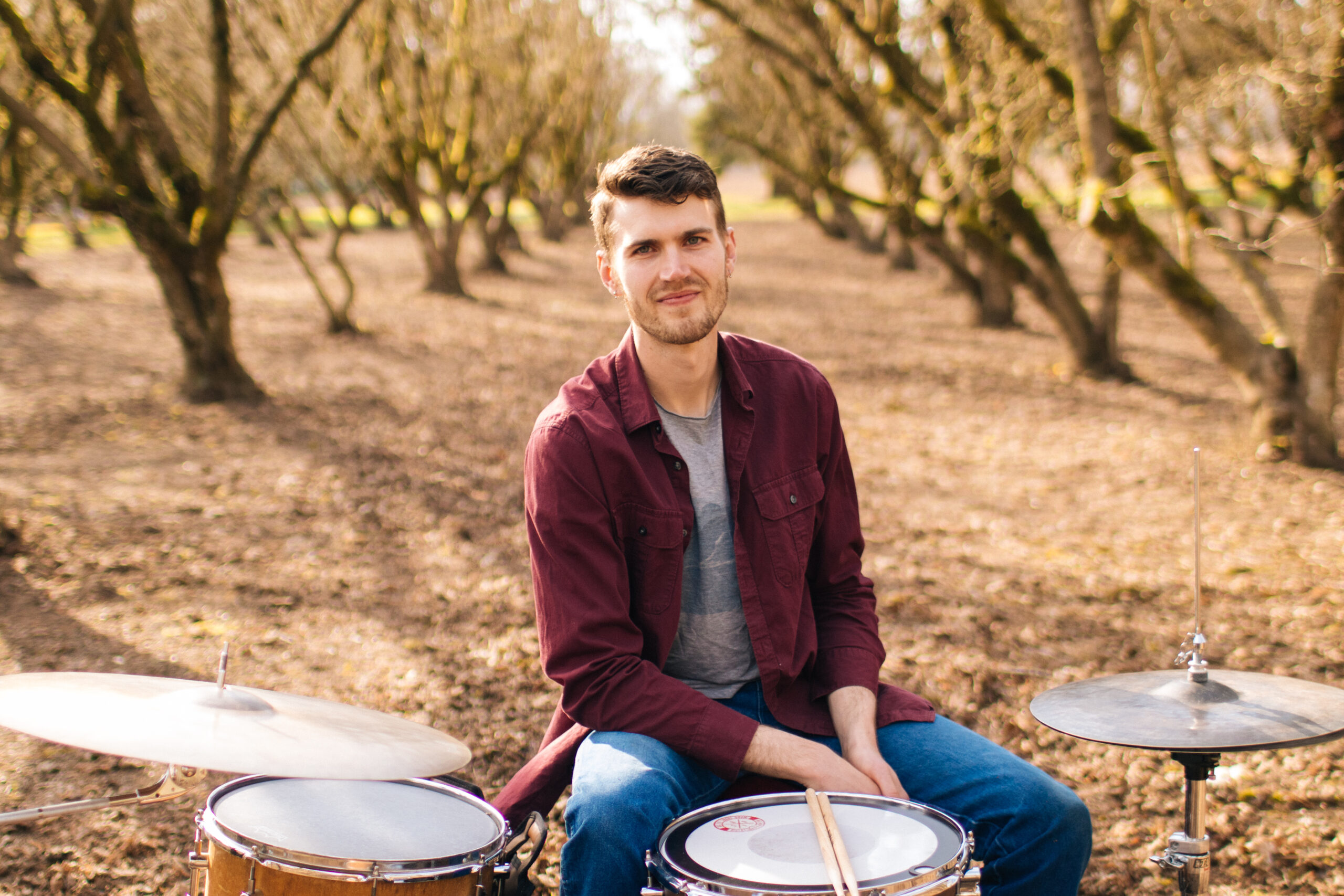 Cameron Wick
Percussion / Drums
A graduate of Douglas Anderson School of the Arts in Jacksonville FL, Cameron comes from a background of symphonic percussion, drum set, and hand percussion. He has been teaching privately for 12 years and is an instructor at the Music's Edge Rock Camp. In addition to teaching, Cameron has performed at the Oregon Country Fair, the Eugene Salsa Festival, Eugene Saturday Market, and regularly plays with The Sugar Beets and El Borko Surf. He is inspired by the deep cultural traditions of percussion, whether it be drum set, congas, tabla, cajon, djembe, doumbek, marimba, vibraphone, or xylophone.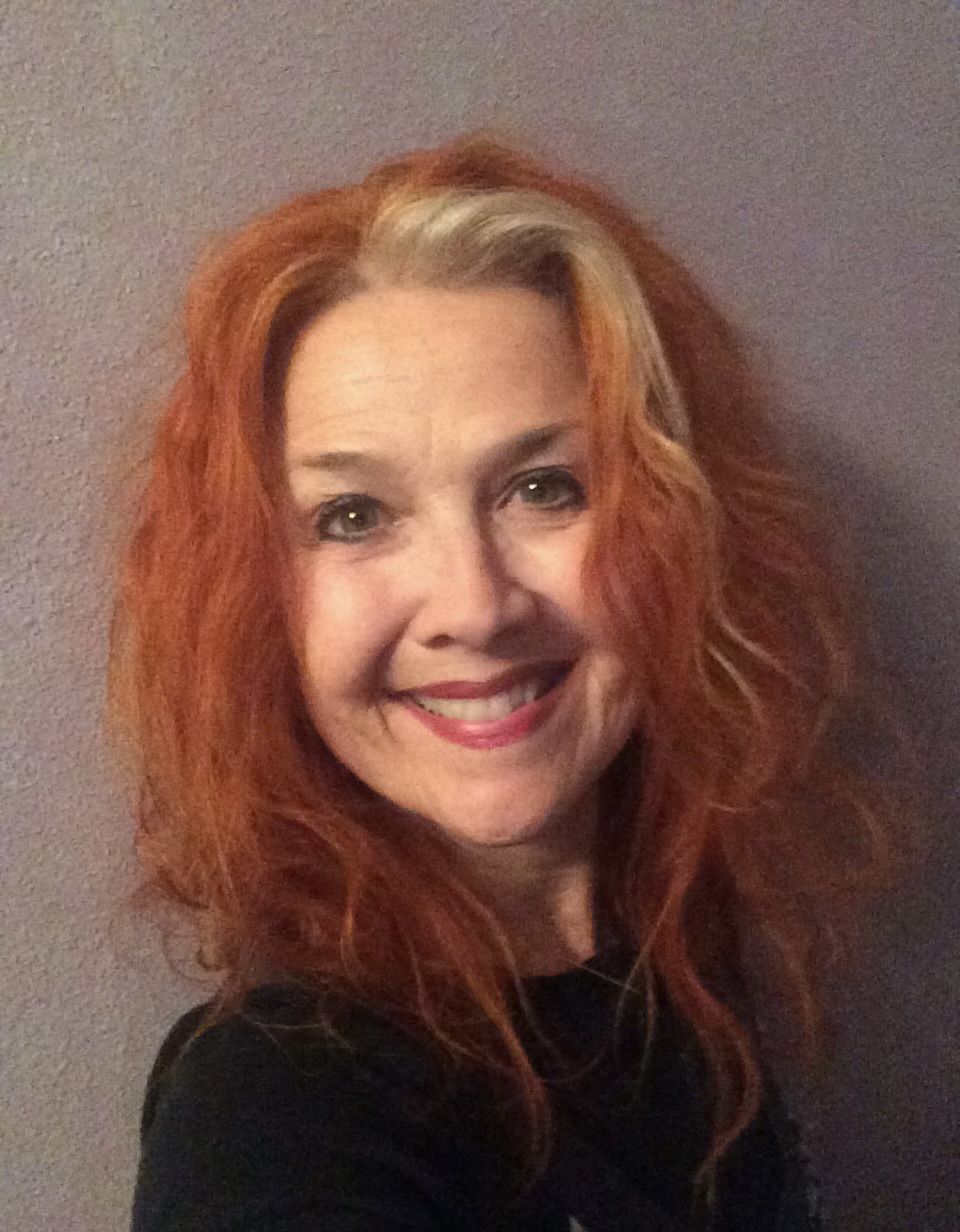 Denise Norwood
Voice
Denise
Norwood
 is thrilled to be a member of the Pavilanis School Of Music team. She retired from several decades of full time performing as lead vocalist in a myriad of different bands (including Top 40, New Wave, Disco, Country, and Jazz), and, in conjunction, has been teaching voice for many years. 
Denise
's early training was in classical voice, and she seamlessly weaves in technique and solid fundamentals, while supporting the musical genres preferred by each individual student. 
Denise
 has also served as vocal arranger, choreographer, costumer, director and performer in Musical Theater, and for over 20 years worked along side her husband producing year round theater in a beautiful turn-of-the-century Opera House.
Denise
 welcomes students of all ages and skill levels and specializes in those who are extra challenged by shyness or anxiety. She takes great joy in using her skill and committed heart to provide a nurturing environment that inspires risk taking and ever higher levels of growth and creativity. 
Denise
 will work with you to set individualized goals...and honor the unique and beautiful partnership between student and teacher.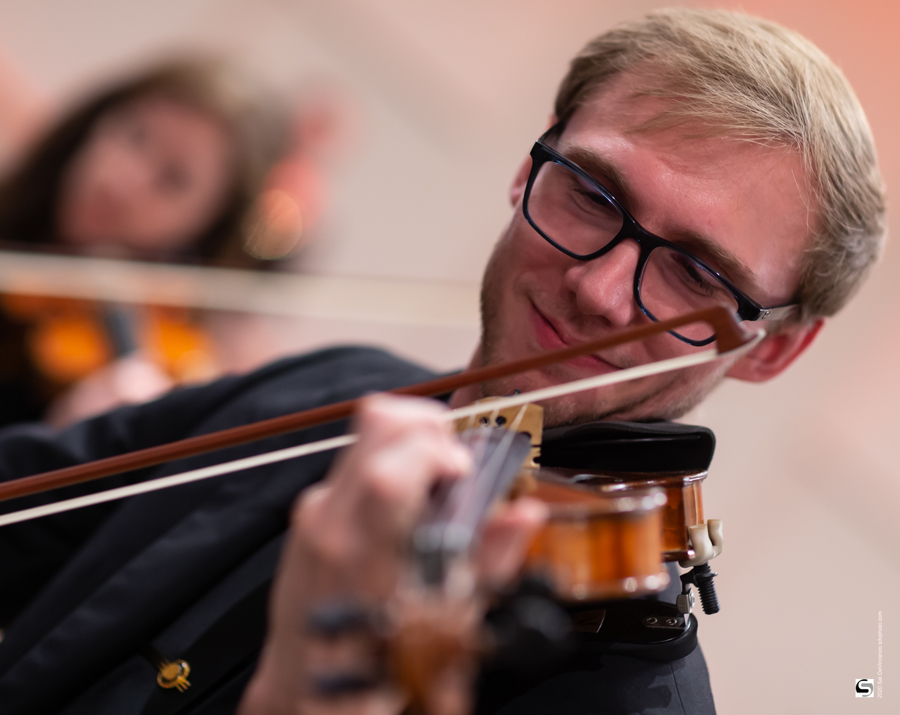 Ben Ehrmantraut
Violinist
Ehrmantraut has enjoyed a rich and varied musical career. He began teaching violin in 2011 and has maintained a private studio since. Equally at home in a group setting, Ehrmantraut collaborates with school orchestra programs and youth symphonies as a sectional coach,
clinician, and guest artist. He has also appeared as faculty at the North Star Chamber Music Festival in Minnesota. An experienced orchestral player, Ehrmantraut has held positions with the Fargo-Moorhead
Symphony in North Dakota, Cheyenne Symphony Orchestra in Wyoming, and the Greeley Philharmonic in Colorado. He also served as principal 2 nd violin with the Boulder Symphony, and led the Longmont Symphony Orchestra as concertmaster. He currently holds positions with the Eugene Concert Orchestra, Rogue Valley Symphony, and Eugene Symphony Orchestra in Oregon.
Chamber music also holds a special place in Ehrmantraut's heart. Summers have seen him performing at Dakota Chamber Music, the Green Mountain Chamber Music Festival, and at the Round Top Festival Institute where his ensemble was awarded "Best of Chamber Music." Ehrmantraut is especially proud of his tenure with the Campanile string quartet and the Altius Collective.
Ehrmantraut holds a Bachelor of Music degree from Concordia College, a Master of Music degree in Performance and Pedagogy from the University of Colorado at Boulder, and is currently studying to attain his Doctor of Musical Arts in Violin Performance from the
University of Oregon. His teachers have included Laura Prokopyk, Dr. Sonja Bosca-Harasim, Harumi Rhodes, Károly Schranz, David Updegraff, and Mr. Hal Grossman.
When not performing or teaching, Ehrmantraut enjoys the company of friends and loved ones, a good board game, and the occasional scoop of vanilla ice cream.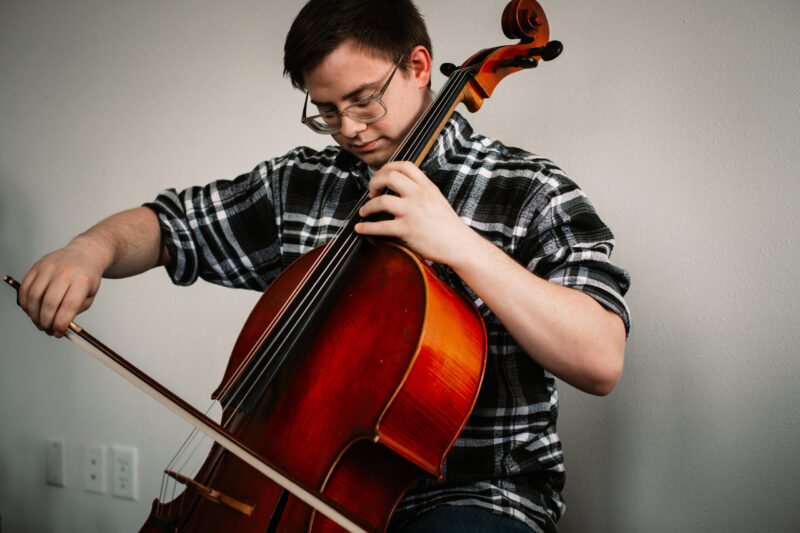 Titus Young
Cello
Titus Young is currently in his first year of pursuing his Master of music in cello performance with Professor Steven Pologe at the University of Oregon. He is also
studying Musicology with Professor Marc Vanscheeuwijck at the University of Oregon,
in order to attain a Master of Music in musicology. He received his Bachelor of Music in cello performance degree summa cum laude from the University of Oregon.
Titus is a passionate musician with a special fondness for chamber music. Born and raised in
Eugene, Titus has participated in lots of community outreach, playing for churches,
retirement centers, nursing homes, and the Eugene Mission to name a few. Titus believes
music is a powerful voice in our world that transcends all barriers and we need to
cultivate and share it with those around us.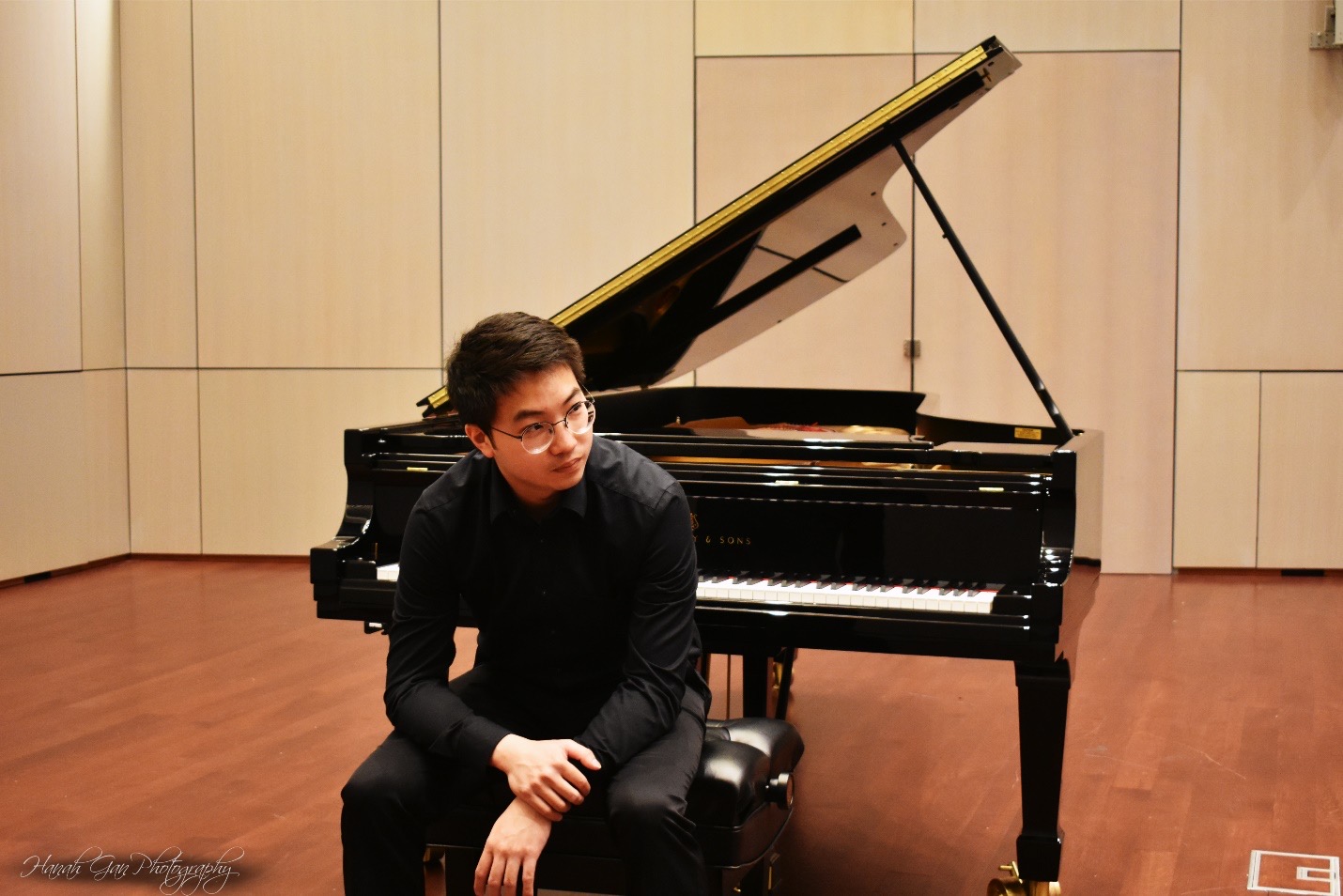 Yuet-Yang Siew
Piano
A native of Kuala Lumpur, Malaysia, Yuet-Yang Siew is currently a DMA student studying piano performance under Dr. Alexandre Dossin in UO. Received both his undergraduate and master degrees from Missouri State University, Yuet-Yang is active in both solo and chamber performance. He was first prize recipient of multiple competitions such as the MMTA competition and J.D. Kelly Piano competition. In 2019, he was invited to give a series of recitals in Buffalo, New York for the celebration of Poland independence.
Born in a musical family with his mom as a piano teacher, Yuet-Yang started to observe his mom's teaching at a very young age. He started to sub-teach for his mom in high school and start teaching students from multiple age groups and levels professionally when he worked as a graduate assistant back in Missouri. Yuet-Yang received qualifications certificates from multiple music syllabus programs like Yamaha, ABRSM(Royal School of Music), & Trinity College London.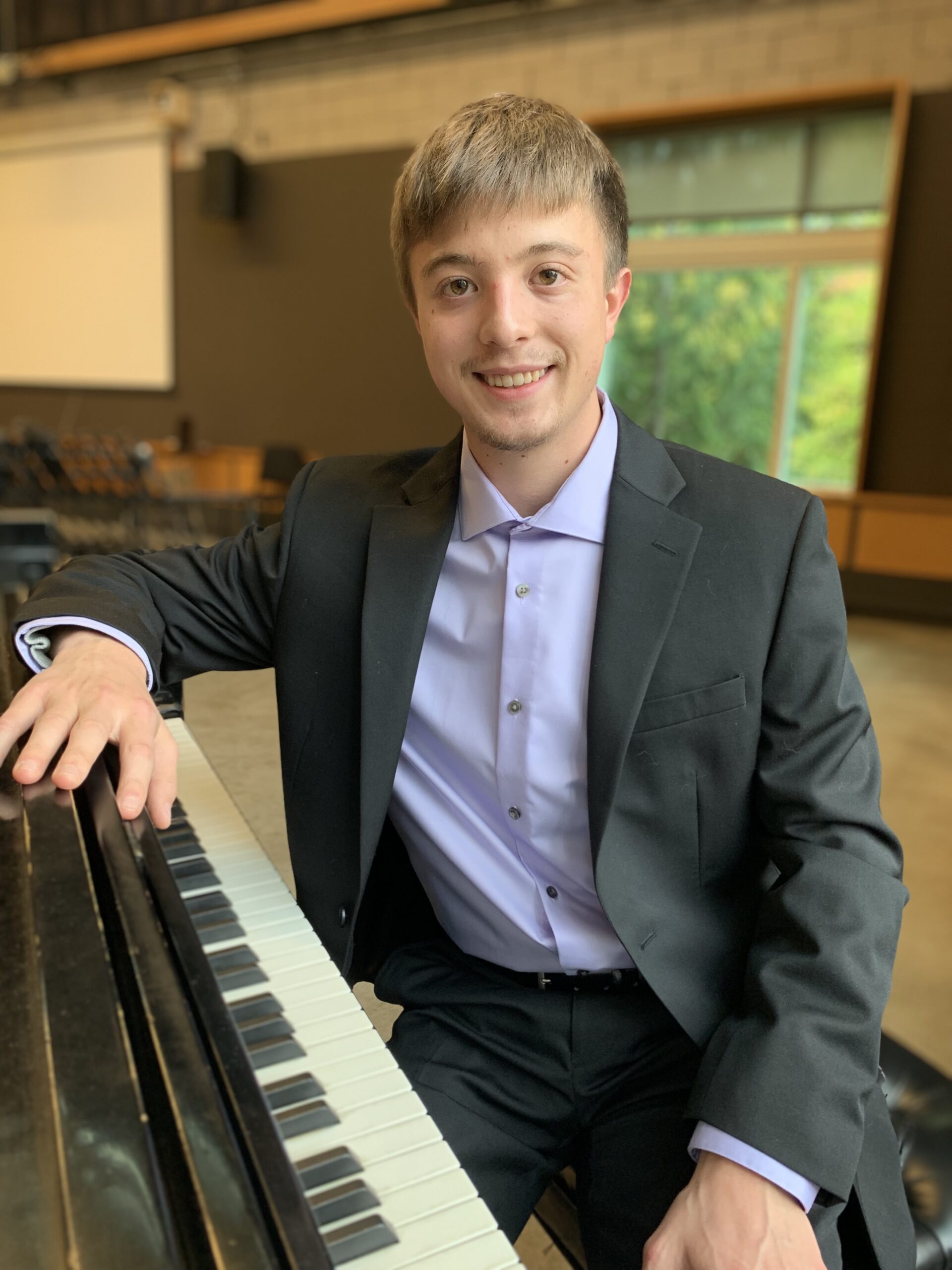 Jake Wong
Piano
Jake Wong is an undergraduate pianist and general music major at the University of Oregon. Since beginning his piano studies at age 9, his piano teachers have included Kay Fujita, Spencer Finnan, Dr. David Riley, and Dr. Grace Ho; in addition, he currently studies the Alexander Technique with Eugene resident Sarah Mauney. Jake has a passion for teaching piano to children, having spent the past two years teaching young students of varying ages, and he hopes to foster in his students a love and appreciation for music. 
As a teacher, his goal is not only to provide fine, body-focused piano instruction, but to also encourage his students to grow and develop into fine people; one of the pillars of the Suzuki method. Jake intends to pursue his Suzuki Teacher Training for books one through four in the next year and is currently enrolled in the Piano Pedagogy program at the University of Oregon. 
Discover your relationship with music.
Through private music lessons, group classes, summer camps or early education, begin your journey today.  Inquire about your first lesson or joining a class.  We are proud to serve Eugene, Springfield and Lane County.